Equal's Strong Flow class combines strength, balancing and flow linked together with breath. The high intensity sequence will challenge your focus, fire your upper core and build your arm and shoulder strength.
The hour is filled with near constant strength building flows that demand a lot of the body, but therefore make it easy to turn off the mind and get into a playful present state of being.
What makes it a strong flow class?
Strong Flow at Equal builds on Core Flow and Core Power for a more advanced flow that includes some (optional) arm balances like, side crow, and flying splits as well as an added element of shoulder and arm strength designed to take students to the next level of their vinyasa yoga practice. The hour is filled with near constant strength building flows that demand a lot of the body, but therefore make it easy to turn off the mind and get into a playful present state of being.
What do you enjoy most about a strong flow class?
Strong Flow is my favourite class at Equal to teach because it invites an extra playful spirit to the yoga room. I don't expect students to be able to do the more advanced poses perfectly, but that's not what's important. I like helping students understand that they can do a little bit of everything... even if they keep one foot on the ground in their side crow, but still feel the beginnings of holding their body on their triceps, that's enough! In my mind, "the attempt" of the pose is the same as doing the pose. The journey and end result are the same... and is there ever really an end result? As long as students challenge themselves to go a little further than they were before, that's what is important and also rewarding for them and also me as their teacher. It's also a great class for taking one's mind off their life/problems of the day. When you are trying to balance on two hands, it's hard to think about an email you need to send, or something you wish you would have said in an argument with a partner or loved one. That extra challenge actually frees the mind to be present and aware of what's happening right now.
How advanced can the class get?
The class introduces several different arm balances to students, however I always include regressed versions of the poses to accommodate all the different levels of experience in the room. I encourage students to skip things that don't work for them, or find a modification that does. For those that are ready to level up, well, there is always room for that too. For example, after a student feels very confident in the crow pose, then they can work on hopping back to chaturanga from there... if they feel comfortable with the hop back they can work on transitioning to a tri-pod headstand.... or to a handstand or beyond!  There is always somewhere further to go, and that's what is so exciting about the practice.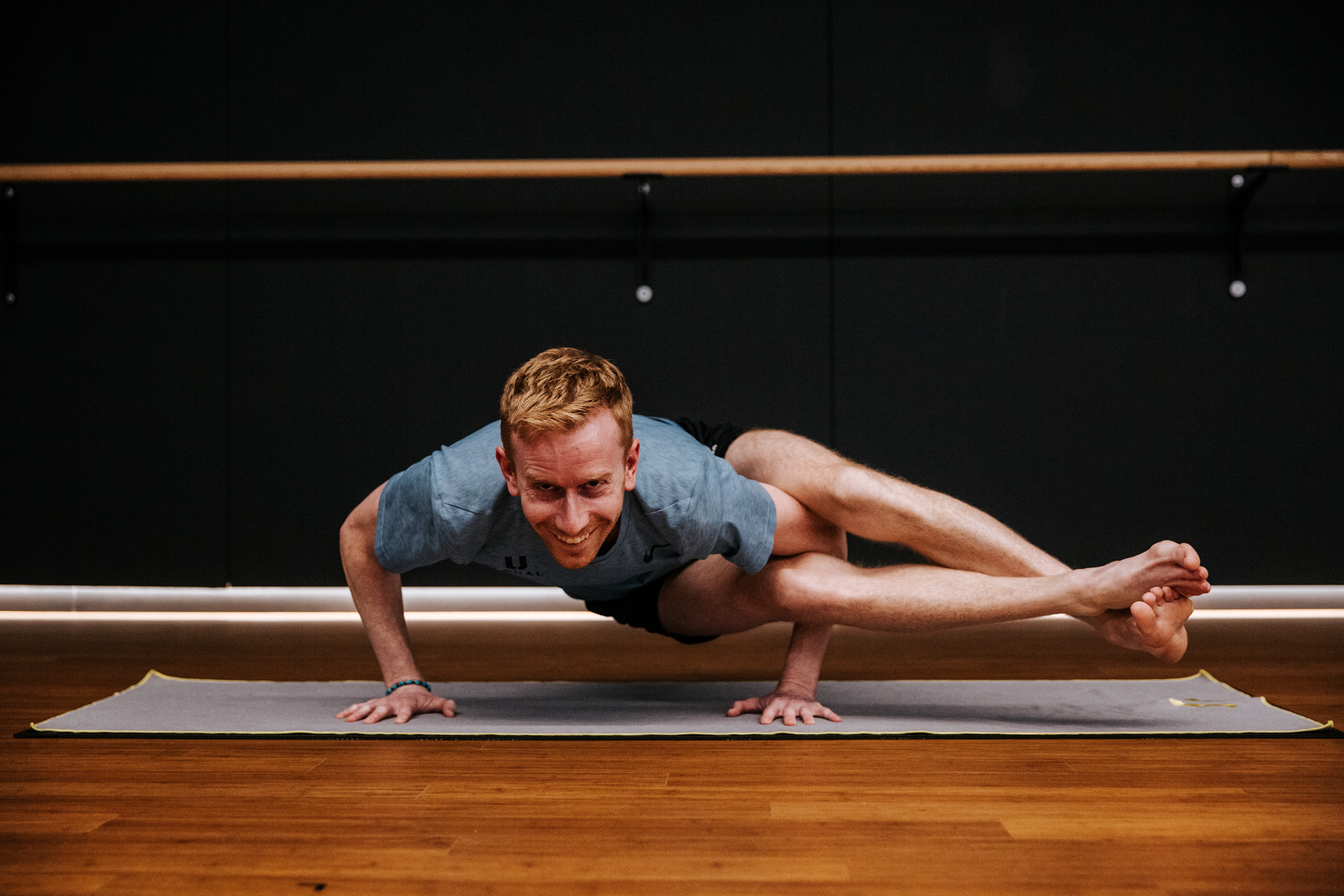 How does the class prepare the body for certain balancing postures?
One way the class helps strengthen the body for more advanced postures is by introducing the double chaturanga, otherwise known as a chaturanga push up, to give the arms and shoulders that extra oomph that will actually help transform the body. Aside from actual strength building, I believe the play elements in working towards arm balancing take the mystery out of the poses, allowing students to build confidence on and off the mat. A lot of people's limitations with advanced postures are simply being scared they will fall, or not believing that they are able or ready to try something. By just giving it a go, trial and error, and getting to know one's body, in the safety of a friendly group of peers, is often all we need to surprise ourselves in doing physical feats we didn't think previously possible. Watching people achieve something new, that they maybe didn't think was possible, is by far my favourite part of the job as a yoga teacher.