You've just experienced a challenging hot yoga class and you sweat more than ever. You are feeling great because the toxins have left your body and maybe you just managed to nail your perfect chaturanga. You feel re-energised and renewed but aren't sure what you need to drink or eat to properly restore and revitalise your body after such an intense flow. 
Your body is definitely seeking immediate re-hydration and replenishment. While water is great, it misses a lot of the key nutrients to help you properly revive and thrive after such a sweaty class. It's critical to ensure you replenish with a proper mix of minerals (i.e. electrolytes), and pay your yogi muscles some love through the right mix of proteins and natural anti-inflammatories.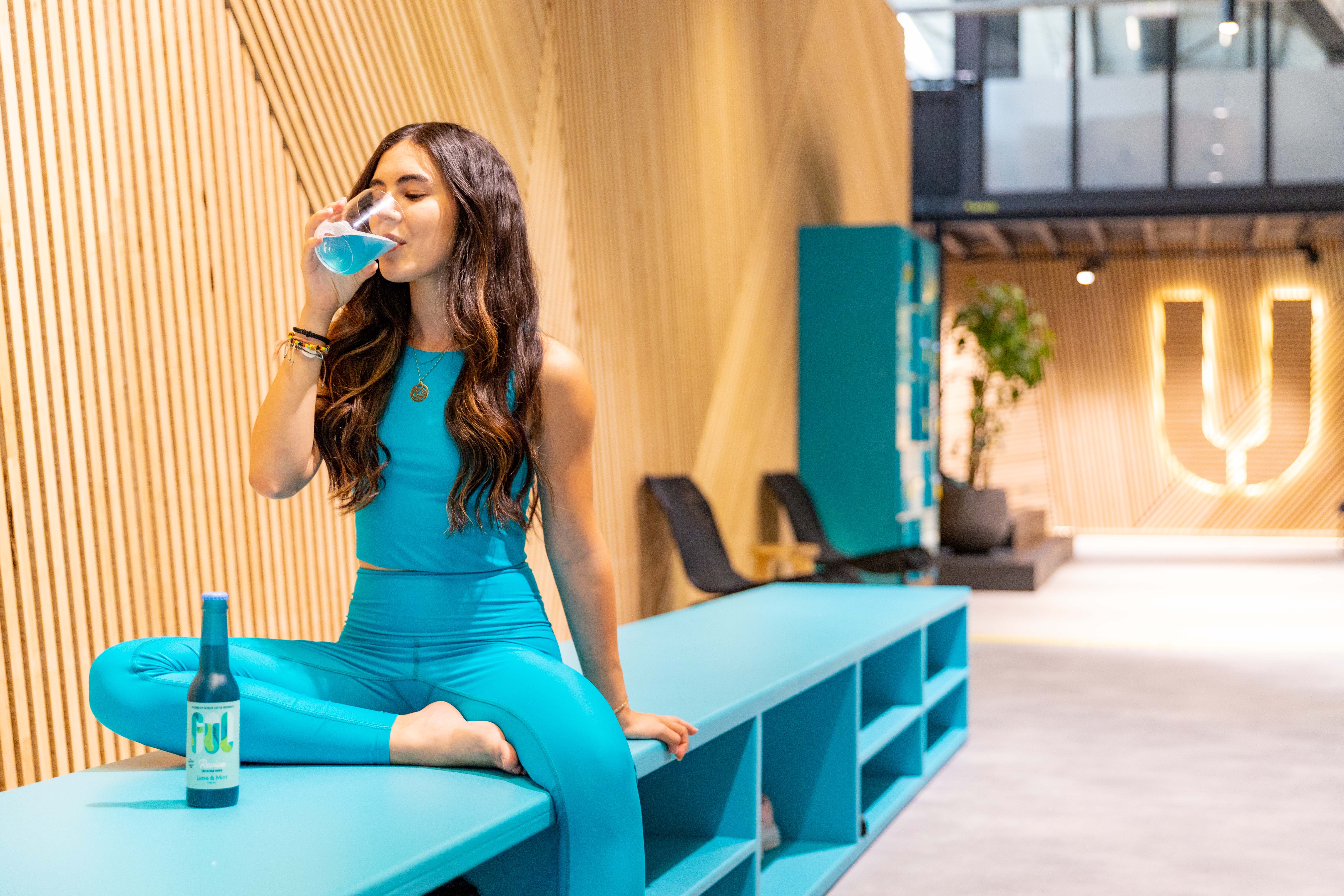 Tell us about the new product, FUL® and what it's made of
FUL® Revive is an all natural drink centered around a superfood FUL® derived from one of the most nutrient-dense and sustainable ingredients on the planet, Spirulina. Our team is made up of yoga lovers (two of us actually met at our yoga teacher training!) and we wanted to create a more mindful way for us to re-energise (without all the artificial additives, caffeine or sugar) at any moment throughout our day – after exercise, mid-afternoon at our computers when we were having a slump, or out with friends on a hot summer's day. The color of the drink is naturally turquoise (!) which comes from a mix of antioxidants found in Spirulina including chlorophyll and phycocyanin (which also has anti-inflammatory properties and helps create red blood cells). Beyond the functional eye-catching color, the drink also contains more natural goodness from the superfood – electrolytes, a complete vegan protein (including arginine and glutamine for speed and strength), Vitamin B2 for energy and Vitamin C. As a fun fact, the superfood is also produced in such a sustainable way it captures more CO2 than it emits! 
When is the product launching and where can we get our hands on it?
The product is launching this summer in the Netherlands (and this Fall in the UK). FUL® Revive is currently available on our website (fulsuperfood.com), all SLA locations, STACH on Jan Pieter Heijestraat, Little Plant Pantry, and several terraces like Republiek Bloemendaal and Noorderlicht – and course in select fitness studios.
What is everyone saying about FUL® Revive?
People love the way it makes them feel – it feels substantial and light at the same time. You can think of that natural burst of nutrients/energy you get from a fresh juice with the refreshing feeling of soft drink. It's not terribly sweet, which seems to appeal to a lot of people who aren't into the super sugary options currently on the market.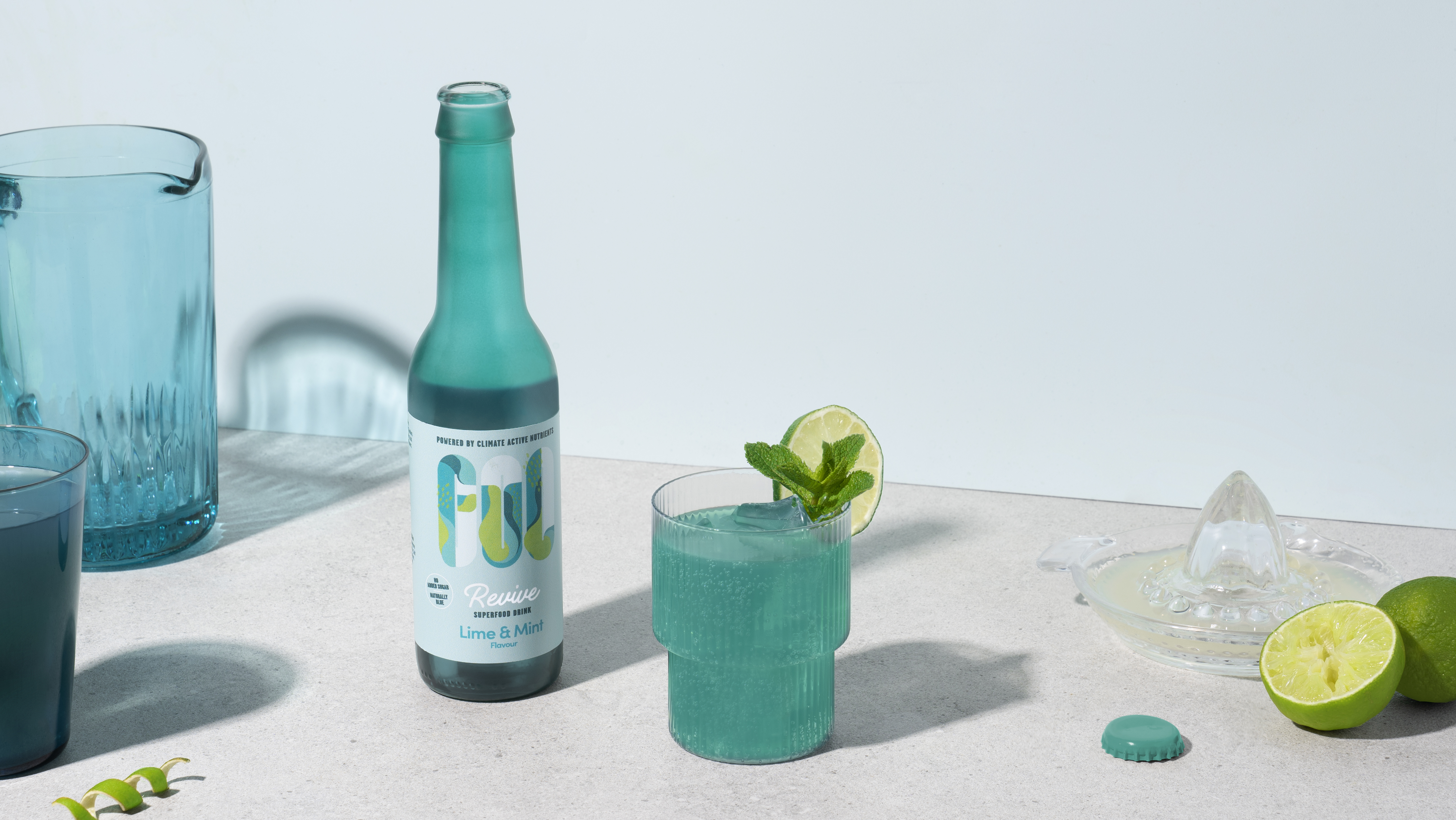 How is FUL® Revive compared to a coconut water or Kombucha for example?
FUL has less sugar and fewer calories than both coconut water and kombucha, but more holistic nutrition including vegan proteins, vitamins, minerals and antioxidants. 
How is best to enjoy a glasss of FUL® Revive?
Ice cold and nice with a bit of garnish (fresh lemon for the Lemon&Ginger flavor, fresh mint for the Lime&Mint and fresh peach or grapefruit for the White Peach). FUL® Revive is also quite nice as a mixer for alcoholic or nonalcoholic cocktails (we have a few fantastic cocktail recipes and have partnered with bartenders to introduce our functional "blue drinking" concept – Mediterranean-colored Spritz anyone?). 
Any other future FUL® products on the horizon?
We're currently exploring the next products with FUL® superfood that include powders, protein bars and gels. Stay tuned.
Curious and want to try FUL® ? Get free shipping on the website using code FULFITNESS
fulsuperfood.com

Remember to eat and drink mindfully!